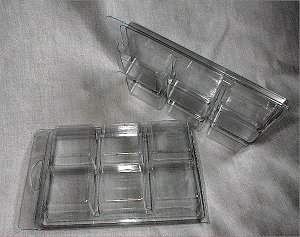 These breakaway clamshells are perfect for making breakaway tarts, color blocks, mini guest soaps, etc...
Just pour, cool, and close. Interlocking back also has a hang tag hole for display.
Each little cavity is
1-1/2" square x 3/4" - 1" deep.
The entire clamshell holds approx. 6 oz.
Maximum pour temp is 160? F.



Price: $0.68

Qty Available: 180
DISCONTINUED ITEM SALE
50% OFF REGULAR PRICES
SALE PRICE:

$0.34 ea