Materials needed:
Click on any link in the materials list to order materials for this project
White/Opaque M&P Soap Base
Clear M&P Soap Base
Soap Safe Fragrance Oil
Soap Colorants
Alcohol in a Spritzer Bottle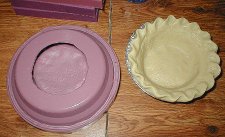 1. Melt the opaque soap base, add green and red coloring to make the tan color of the crust. Also, add your fragrance. You can use a Butter Cookie, Gingerbread, or Cinnamon Bun fragrance; just make sure that it is soap safe. Also melt, scent and color opaque soap to make various fruits for your pies.
2. Pour the melted soap base into the crust molds and the various fruit molds. When cooled, unmold the crust from the silicone mold and place in a pie tin. Unmold the fruits and set aside for next step.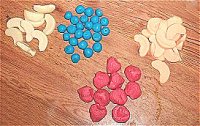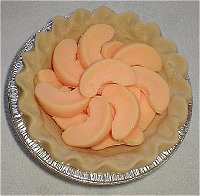 3. Arrange your fruit pieces in the crust, or for a creme pie, pumpkin pie, etc., melt more opaque soap base for your filling. Be sure to spritz the fruit in the crust while arranging your fruit.
4. Melt Clear M&P soap base, add fragrance and slightly tint the soap for the fruit type pie you are making.
5. Pour your clear tinted soap over the fruit in the crust. If making a crème pie, pour your filling into the crust. Be sure to spritz the crust with alcohol before pouring the filling. Repeat this step if you are making a multi-layer soap pie, like lemon meringue.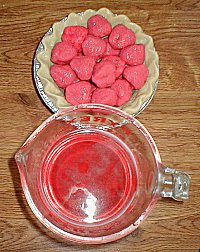 6. Allow the pie to fully cool. Voila! You're done!
5" soap pies are approximately 1 pound of soap. We like to cut the 5" pies into 4 sections, creating 4, 4oz. soaps. Package these soaps in our Pot Pie Dome Boxes for a "fresh from the bakery" look.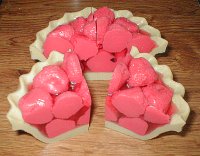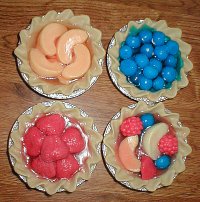 3" pies are a 4oz. soap, approx. Package these soaps in our Tiny Tart Dome Boxes for a "fresh from the bakery" look.